TeamViewer is a program that you can download, enabling remote technical support.
To prepare in advance, it's best to download and install the TeamViewer application. You can easily do this through the following links:
WinOS: https://get.teamviewer.com/goosevpn_windows
MacOS: https://download.teamviewer.com/download/TeamViewerQS.dmg
Linux: https://download.teamviewer.com/download/teamviewer_qs.tar.gz
Once the application is downloaded, simply open it to view your ID and password.
When it's time for the TeamViewer session with our technician, you will need to follow these steps:
Open the TeamViewer.exe application that you downloaded from the link above.

You will now see the following screen:
Windows: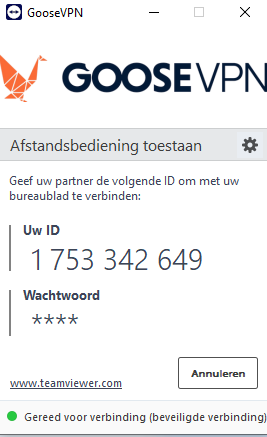 MacOS & Linux: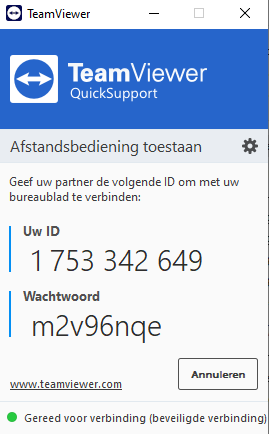 3. Copy your ID (and password for MacOS and Linux) and send it to Goose support.
One of our technical team members will connect with you and try to identify and resolve the issue.
TeamViewer has its own built-in security for the "Your ID" and "Password" information, as they expire after 10 minutes. You don't have to worry about others using this information to connect to your computer. The technician assisting you during the TeamViewer session is the only one who will have access to your computer. No one else is involved, and we do not involve any third parties. We never disclose information to third parties. Read more about your privacy here.