1. Introduction
This manual will help you how to install GOOSE VPN on your macOS device step by step.
2. Download the app
First you need to download the software via the portal:
https://my.goosevpn.com/downloads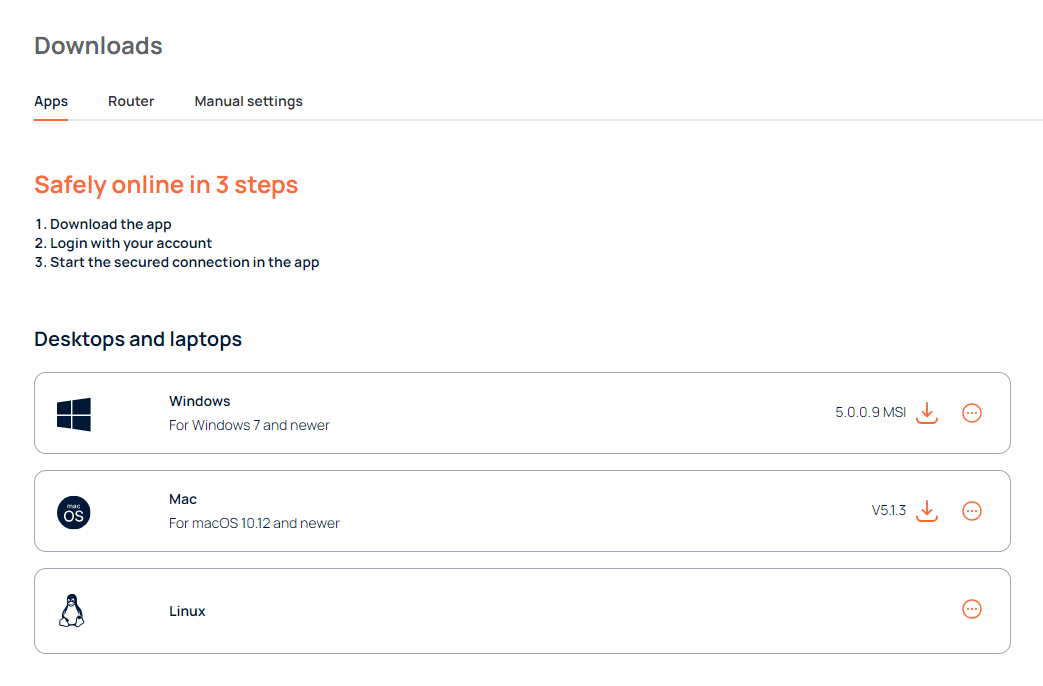 Need help? Contact GOOSE VPN Support for immediate assistance.
Installation process
Search for the setup file
Search for the setup file GOOSE_VPN.dmg in the downloads folder of your mac device and start the installation.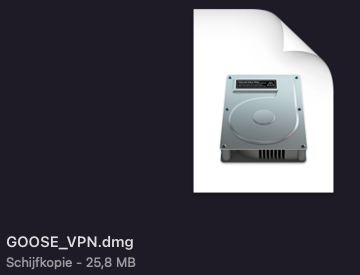 Install GOOSE VPN
Double click the GOOSE VPN.pkg file to start the installation.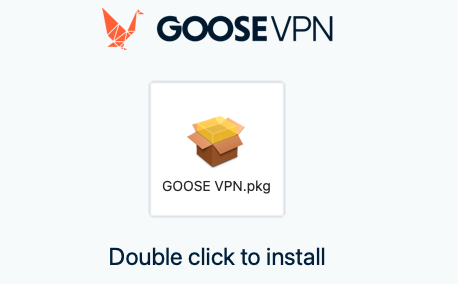 Complete the installation program
Go through the steps and install GOOSE VPN.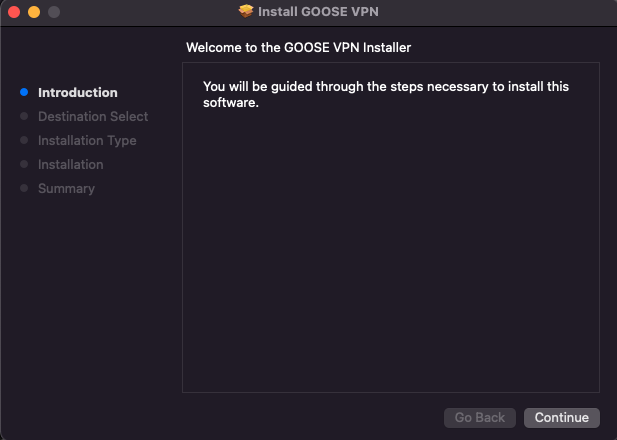 Start GOOSE VPN
Start GOOSE VPN by double-clicking on the GOOSE VPN icon in the applications folder or by clicking on the GOOSE VPN icon in the launchpad.
3. Login
Log in with your email address and password or make a new account.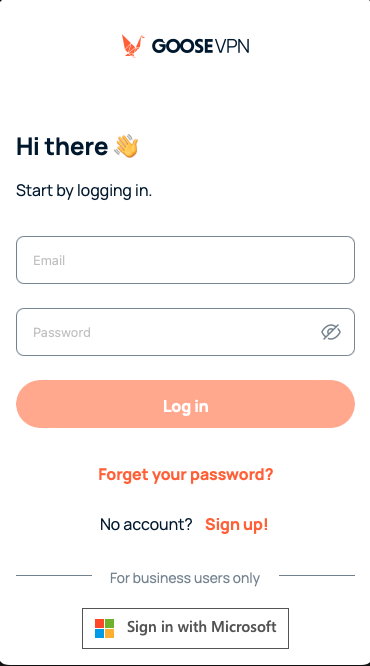 4. Using the app
When you've logged in successfully you will see the main screen of the GOOSE VPN app.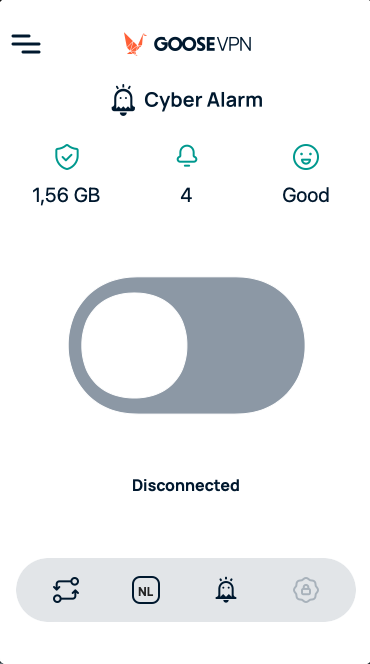 There are several option with which you can determine how GOOSE VPN should work for you.
Choose your server
When you open the server list you will be able to see and select all the servers we offer at the moment. The server that is currently selected can be identified by the checkmark on the right side of the server. Choose from which country you want to use the internet and immediately enjoy the benefits. Or use the Smart Server, which will choose the best server for you.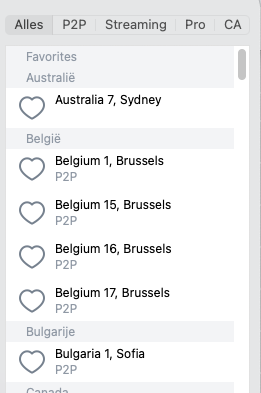 GOOSE VPN has four types of servers:
Normal servers: For daily usage
Cyber Alarm servers: To use the Cyber Alarm and get notifications of potential risks
P2P (peer-to-peer) servers: To download
Streaming servers: To use streaming services or stream other videos.
The Smart Server option is an option that compacts all the same type of servers (Normal, Cyber Alarm, P2P, and Streaming) for each country. Automatically the best server for your chosen location will be used. Turning or keeping this option off will however give you more control on which server you use.
When you connect to a server on macOS with GOOSE VPN for the first time, you will be asked whether GOOSE VPN can configure connections via VPN. Enter your macOS user password here, and press "Allow."

Carefree internet
Is everything to your liking? Slide the switch and you are connected to GOOSE VPN.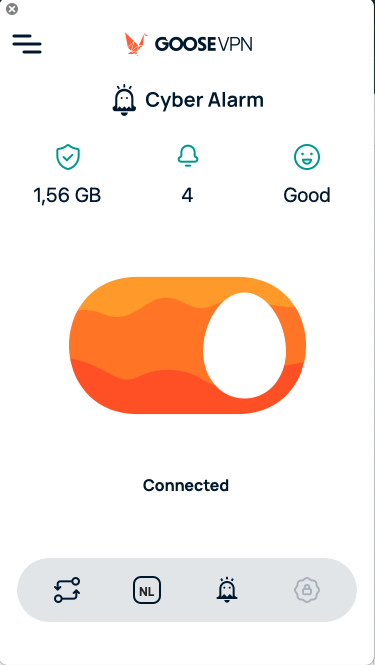 When the VPN connection starts, you may be asked whether neagent wants to store confidential data in the key ring. This is a macOS security measure that will securely store your GOOSE login details.
If you choose "Always Allow", you do not have to enter your macOS user password every time you connect.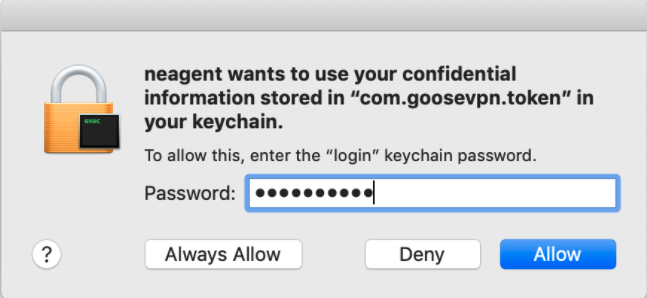 Stay connected
Do you want to stay connected? Save trusted networks and GOOSE VPN automatically turns on and off based with the Autopilot based on the network you are connected to.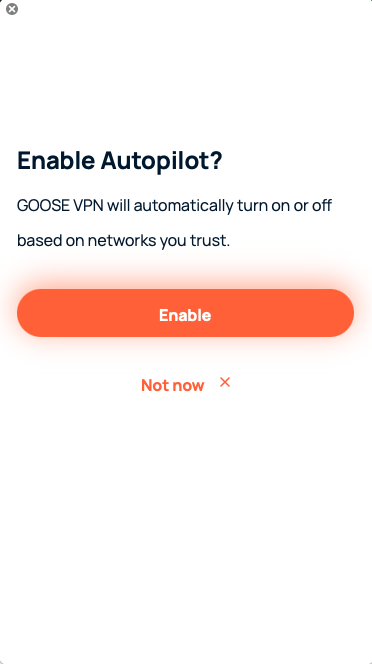 5. Options
When you click the three bars in the upper left corner, you can choose "Preferences", "FAQ/Support", or "Quit".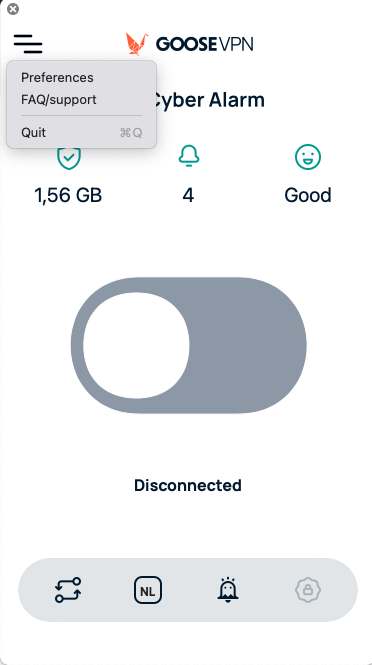 Preferences
When you click on Preferences you wil go to the settings of GOOSE VPN.
General
Here you can indicate whether GOOSE VPN may start automatically when you start your macbook, if GOOSE VPN may be shown in the Dock & App-Switcher, and if GOOSE VPN may show notification.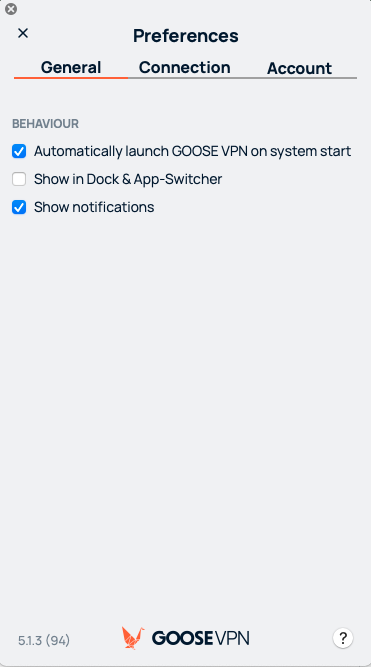 Connection
In the tab Connection you can enable the Autopilot and set the Connection Type.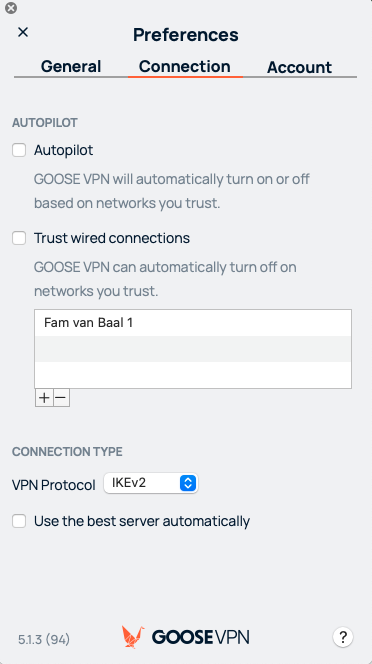 Autopilot
Here you can indicatie if you want to enable the Autopilot function. GOOSE VPN automatically connects or disconnects with a server, dependent on the networks you have set as Trusted wired connections.
Trusted wired connections
In this part you can indicated which networks you trust. When you use Autopilot and you are connected with a trusted network, Autopilot automatically disables GOOSE VPN.
Connection Types
Here you can indicate which VPN Protocol you want to use. By default this is set to the IKEv2 protocol. You can choose from the following protocols:
Automatic: Automatically selects the best protocol for your device and server.
IKEv2: High security and fastest speed. Compatible with newer devices.
IPSec: Medium security, normal speed. Supports many devices.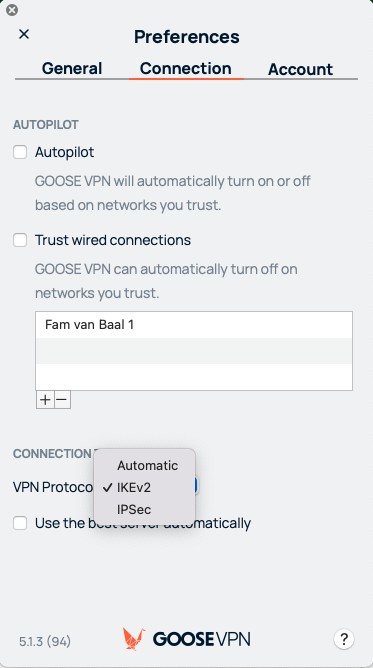 Smart Server
When you use the Smart Server function, the best server will be automatically selected for the location you chose.
Account
At "My account" you will see information about your account. If you have a subscription with a specific amount of data per month/year, you can see how much data you have already used or how much data you still have left. You can also see with which email address you are logged in and which package you are using.
Here you can logout.

FAQ/Support
With the "Support" option you will go to our FAQ section.
Quit
When you click Quit GOOSE VPN will stop and the application will close.
Need help?
Please contact our support team via our chat or send an email to support@goosevpn.com.