1. Introduction
This manual will help you to install GOOSE VPN with OpenVPN on your Asus RT-N16 / RT-N18U / RT-N66U / RT-AC68U / RT-AC87U / RT-AC3200 Router.
2. VPN Client settings
Open the admin panel of your router via http://router.asus.com or the LAN IP-address. Click in the menu on the left on VPN.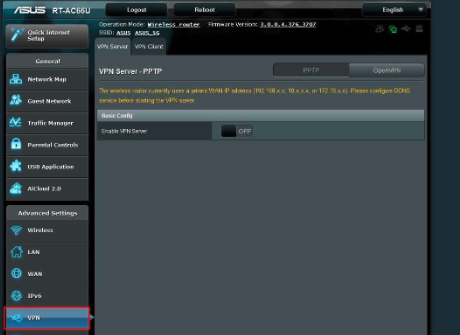 Click on VPN Client.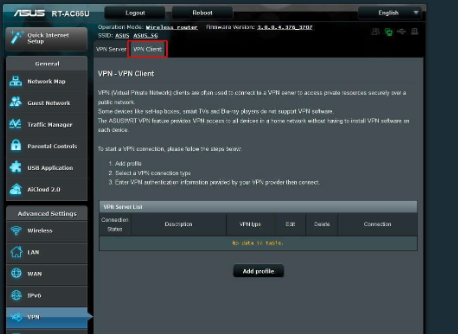 3. Get your token
Now we need to find your secret token. Open the following webpage in your browser: https://portal.goosevpn.com/download.php.
Click on Router
At the right side you will find your token. We advice you to copy this. You will need it later.

Click .ovpn files
Here you can download the .ovpn files we need. These documents include the OpenVPN configurations with which you can connect with our servers. For example, the Netherlands 1.ovpn file is needed to connect with the Netherlands 1 server. Choose the file of the server you want to use via OpenVPN.
4. Add the VPN profile
Click on Add Profile.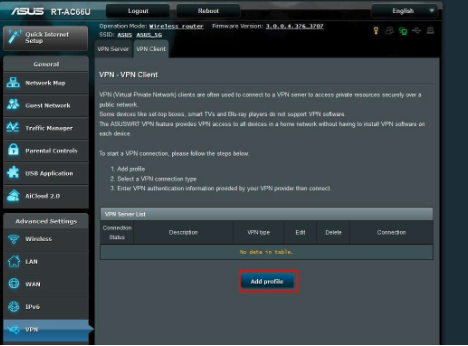 Select OpenVPN and enter the requested details.
Description: A name for your VPN connection
User Name: The email address with which you have registered at GOOSE VPN
Password: The token you have copied in step 3
Click Browse and search for the .ovpn file you just downloaded. Click on Open. Then, click on Upload.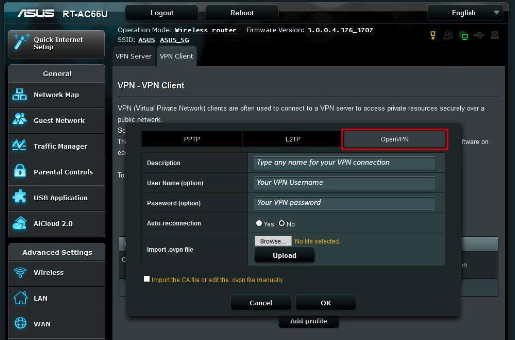 When you have entered all the details and uploaded the file, click OK.
5. Activate the VPN connection
Click on Activate and wait about 2 minutes.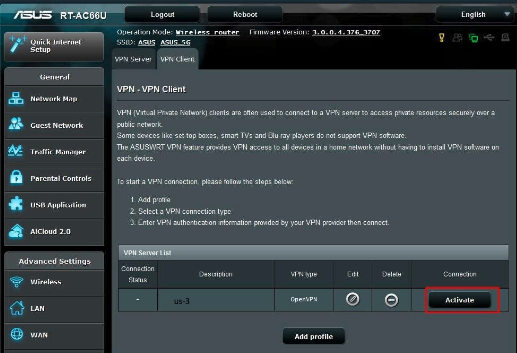 6. Do the free online privacy check
To see if the VPN connection is set up correctly, you can use our free online privacy check. The website will immediately let you know if your connection is secured or not.
Does the website indicate that you are safe online?
Congratulations! You are now secure only with GOOSE VPN with OpenVPN on your Asus RT-N16 / RT-N18U / RT-N66U / RT-AC68U / RT-AC87U / RT-AC3200 Router.
Need help?
Please contact our support team via our chat or send an email to support@goosevpn.com.